USA---Installation and Debugging for E Liquid Oil Packing Machine
Views:19 Author:Grand Packing Publish Time: 2019-10-11 Origin:Grand Packing
Customer from USA purchased the E liquid oil mono dose packing machine and cellophane wrapping machine from us for his E liquid oil product. Recently our technician went to do the installation, debugging and training for the customer in USA.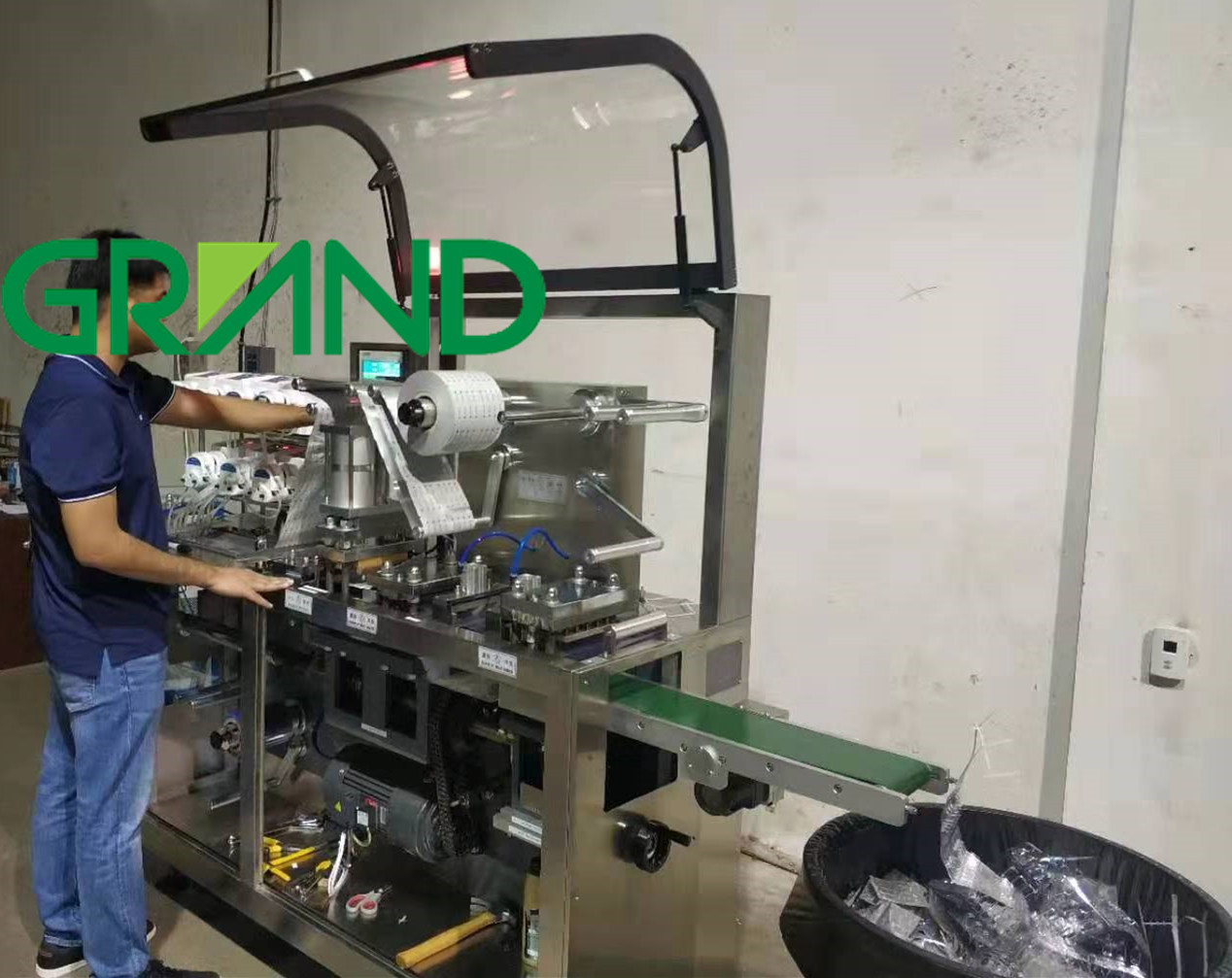 (technician from customer factory is learning the machine operation)
The whole process goes on fluently and customer is satisfied with our machines and service ( the installation report is shown below)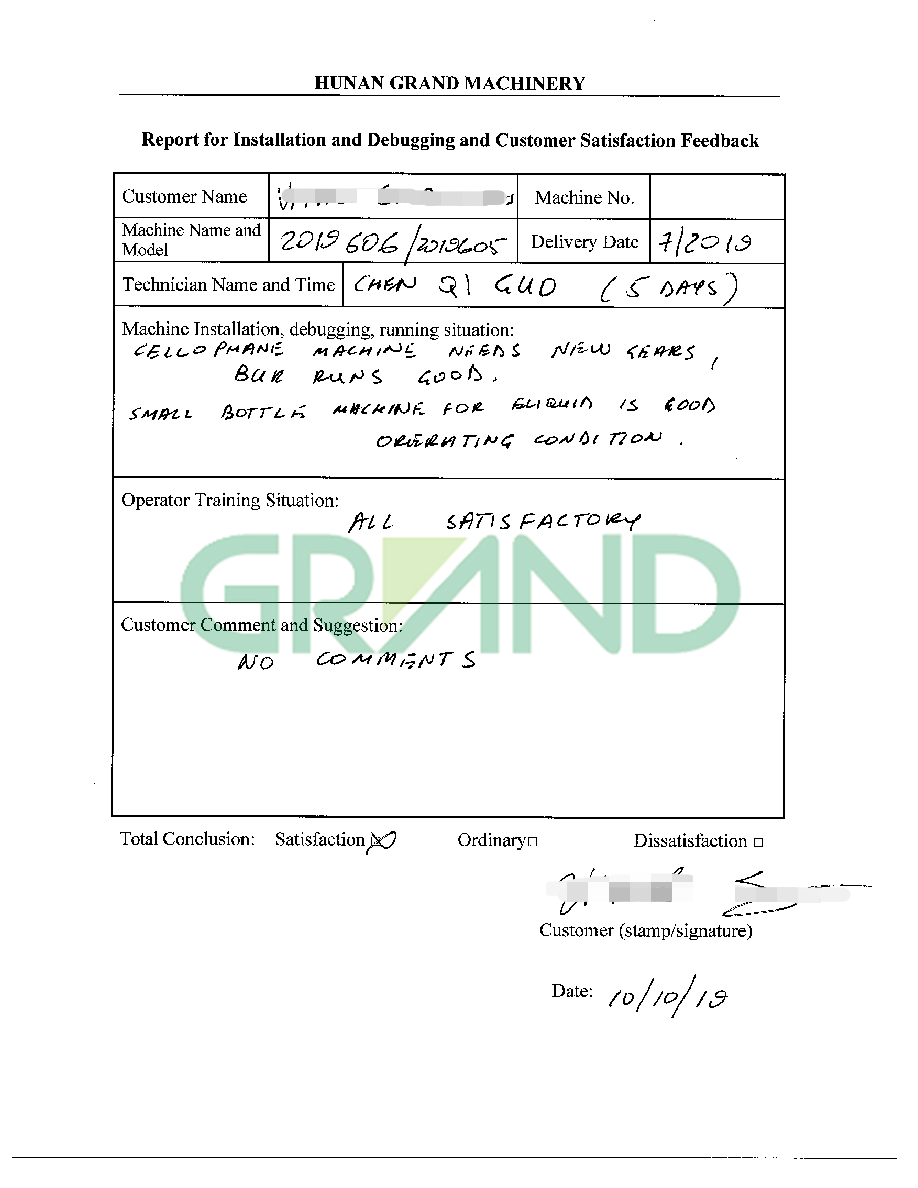 1. What is electronic cigarette oil?
Actually, the definition to it is very certain. Some people may call it electronic cigarette liquid, or e-liquid for short. Through a heating element inside the electronic cigarette, the e-liquid can be atomized. The atomized e-liquid smells like tobacco. Therefore, some smokers replace traditional cigarette with e-cigarette for the sake of health. On the other hand, chemicals in e-liquid include propylene glycol, glycerin, flavorings, additives, and sometimes small amounts of nicotine. In addition, through engineers' innovation in our customer's company, the nicotine levels in their e-liquid can range from 24mg to 0, allowing users to gradually decrease nicotine usage.
2. How is e-liquid packed?
E-liquid, as a kind of liquid, seems to be more common to be packed in plastic or glass bottles. And indeed it is.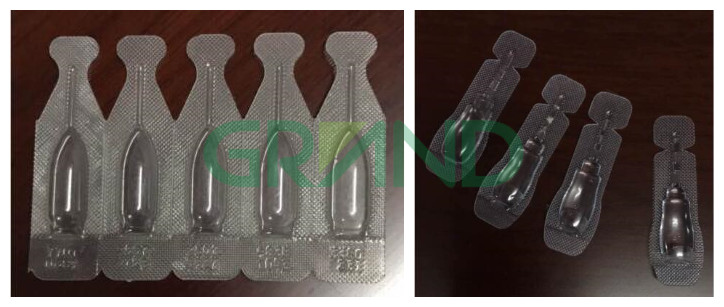 (plastic bottles for e-liquid)
Some of our machines can finish the filling and sealing process, such as GGS series liquid filling and sealing machine. Through accurate control, e-liquid can be filled in different volumes as required.
For mono dose usage, the E liquid oil can also be packed in alu/pvc blister

(blisters for e-liquid)
Our customer bought DPP blister packing machine to do so. Actually, packing e-liquid in blisters can bring the producer much convenience. First, mono-dose e-liquid can be produced. Second, the figure of blisters is adjustable due to different molds. Manufacturers can adjust them to the shape of ampoule or bottle, or some other they would like. Third, all of the blisters are made by the same machine, and can be instantly used after cooling to pack e-liquid. Therefore, the quality of blisters can be guaranteed.
3. What can our machine provide?
Just as what has been mentioned above, it is convenient for DPP blister packing machine to pack e-liquid. It can finish blister forming, liquid filling, sealing and punching on a single machine. Such a design enables users to save some space. Besides, it can produce single blister or mono-dose blisters every time. This number is determined by manufacturer's requirements and fulfilled by the mold.
After all, it is glad to know that our American customer is satisfied with our machine. Wish everything goes well for our customer in the future :)