Serbia -----Blister Packing Machine for Jam Is Shipped
Views:11 Author:Grand Packing Publish Time: 2020-03-19 Origin:Grand Packing
Today, the blister packing machine for jam is delivered to Serbia.
What's your first impression to blister packing machine? A machine to pack solids? Yes, The commonest application of this machine might be to pack tablets or capsules of different specifications and sizes.
However, this time, our Serbian Clients choose blister packing machine to pack jam, a semi-fluid. Actually, it's not surprising at all. After all, with filling pump being changed, a blister packing machine can even be used to pack liquids, like e-liquid, olive oil, ketchup, chocolate, cream and so on.
For this Serbian customer, his product is kind of fruit jam with some tiny granules inside.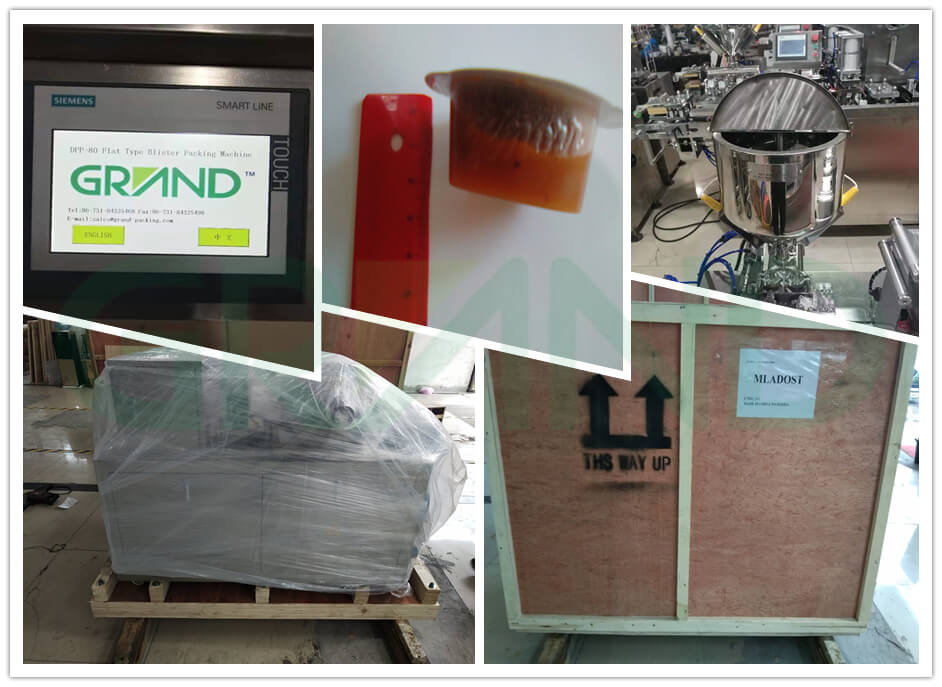 Except high adaptation to materials of different states, it is known that a well-manufactured blister packaging machine features stable performance, perfect functions, high automation, high efficiency and long service life. All of these features enable blister packing machine to be widely applicable in many field.
1) Pharmaceutical industry
As it is mentioned above, tablets and capsules might be the commonest application of blister packing machine. Medicines, as special goods, should be packed and stored in a high standard. And the development trend that medicines are packed in paper sachet, plastic sachet, glass bottles successively and now blisters shows: Blister package is the most suitable package for medicines currently. Compared with other package, blister can make sure that medicines will not polluted and can be carried conveniently.
2) Foodstuff
In supermarket, kids are always attracted by milk slice packed in blisters. It's also a product of blister packing machine. Except for milk slice, chocolates, jams, olive oil and even some fast food can be packaged in blisters. Compared with sachets or glass bottles, blisters are obviously more portable. On the other hand, the volume of a blister is precisely designed. People can calculate how many pieces of blisters they need for access at a time. Therefore, less material will be wasted.
Blister packages, being portable, space saving and light, is being a packing container for more and more materials. Engineers are also trying to improve performance of blister packing machine. Besides, with development of high-resistance packing materials, blisters made from them can be safer and more resistant to penetration and corrosion of packed materials.
Based on these applications, features and advantages, it is not difficult to predict that blister package will become more popular among factories of pharmaceutical industry and foodstuff in the future. Blister packing machine will also play an important role during the blister popularization and provide blisters more reliable performance and properties.